Cart Repairs and Replacements
Cart Repairs and Replacements
Cart Repairs and Replacement
One Garbage Cart and one Green Cart are provided per house. Additional Green Carts can be purchased from the City, however, additional Garbage Carts are not permitted, even if your home has a legal secondary suite.
Both Garbage and Green Carts are City property and have a unique ID printed in white lettering on the front that corresponds with the property address; mixing carts between properties can result in utility billing errors. Please write your address on the white bar of the lid to prevent mix-ups.
Cart Size Information
120L - 94cm high x 48cm wide x 56cm deep
240L – 1.07m high x 58cm wide x 74cm deep (standard size)
360L – 1.14m high x 71cm wide x 81cm deep
Garbage and Green Carts can be exchanged for different sizes at any time of the year; however, exchange fees may apply.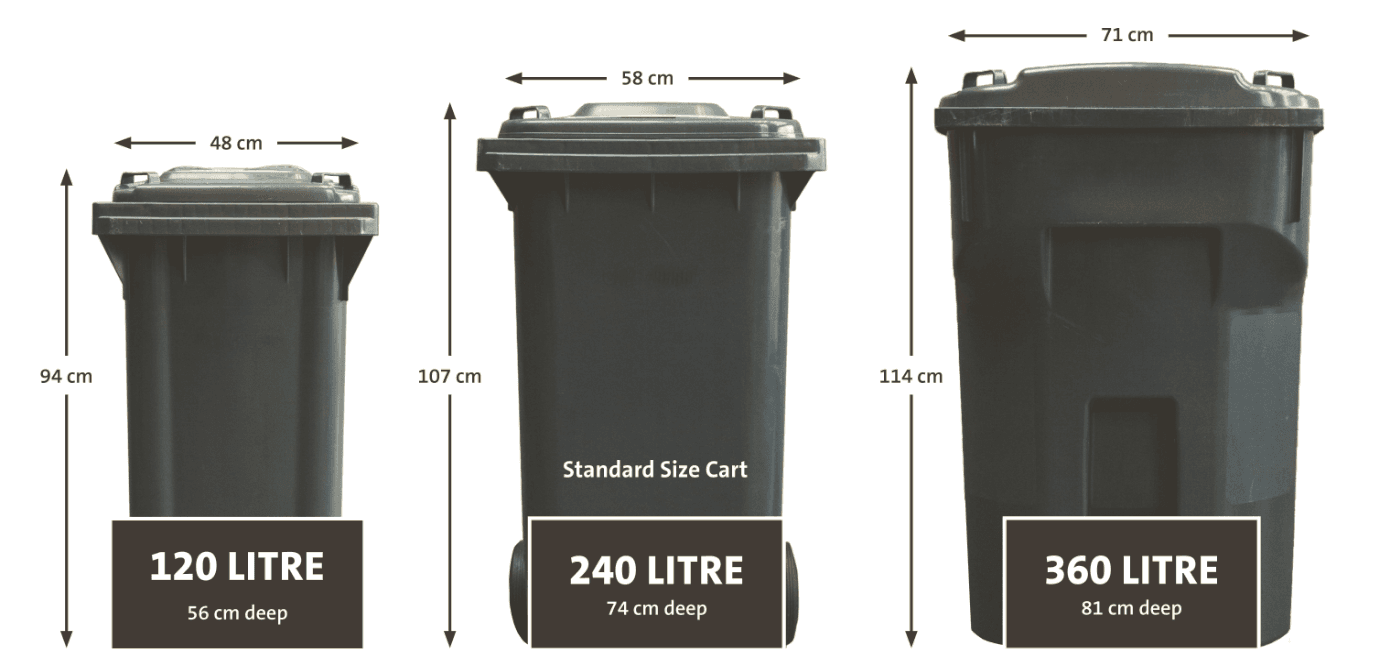 Cart Repairs
If your Garbage or Green Cart is damaged, please fill out the Cart Repair Form to request a repair or replacement.
If your Garbage or Green Cart is missing, please email Solid Waste.
Annual Garbage Utility Fee
The size of your Garbage Cart determines the rate you will pay for garbage fees on your next annual utility bill (not your Green Cart).
2022 Rates
120L size = $264/year

240L size = $350/year (standard size)

360L size = $494/year
Garbage Cart Exchange Fees
The Garbage Cart exchange fee is $50 plus a prorated garbage utility fee (varies by month). Garbage Cart upsizes can only be requested by the homeowner because this will increase the annual garbage utility fee.
If you would like to downsize your cart to save on next year's annual garbage utility fee, you can see in the prorated garbage utility fee chart, there is no exchange fee from February until the end of June.
Green Cart Exchanges
A $50 exchange fee applies for all Green Cart upsizes and downsizes. The size of your Green Cart does not impact the annual garbage utility fee.
Please complete the Cart Exchange Form to request a Green Cart exchange or to purchase an additional Green Cart.
City staff will contact you within 1 or 2 business days to confirm your request and arrange payment, if needed.
Additional Green Carts
A one-time fee applies depending on the size cart you choose to purchase. Additional Green Carts do not impact the annual garbage utility fee.
120L size = $140

240L size = $150 (standard size)

360L size = $160