Featured Projects
In this section, you'll find descriptions of innovative feature projects that can be found around our city. These projects are the initiatives of either the City, businesses, contractors, builders and/or developers.
Check them out, and you will start to recognize these features in our city.
Feature Project - Northeast Coquitlam Storm System
Water quality ponds and diversion pipes are part of a unique drainage system on Burke Mountain that provides flood protection for residents while protecting valuable creeks and fish habitat. A network of pipes on the mountain diverts large, damaging water flows away from smaller creeks and discharges it to Deboville Slough. To keep some flow in the creeks, flow splitters on the diversion pipes bleed off water and direct it to treatment devices and water quality ponds where pollutants and sediment are captured and settled out first.
City of Coquitlam Projects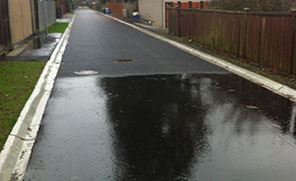 Pervious asphalt was used on the back half of this lane which drains to Nelson Creek while traditional pavement was used on the other half. Rainwater soaks through the pavement and makes its way back to the creek slowly through the underground soil. This filters out road pollutants and helps to protect the creek from heavy flows that cause erosion.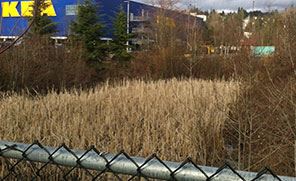 IKEA has constructed a wetland area which detains and treats excess flows from their site. The parking lot was also constructed so that rainwater runoff is directed towards planted areas for water quality treatment and infiltration. Nelson Creek runs along the east side of the IKEA property and these building approaches help to keep it flowing clean and undamaged from heavy flow. Wetlands also provide a refuge for birds and small amphibians.
Contractors', Builders', Developers' & Organizations' Projects
Mainroad Contracting and the City have teamed up to test a new type of pavement called EZ Street. This pavement uses a cold mix rather than a hot application process which allows it to use less greenhouse gas emissions. Since the material is produced, placed and stored at ambient temperatures, any unused material can be returned to the stock pile which reduces waste. The material is self-healing which reduces the likelihood of cracks and need for maintenance. The pavement also has pervious properties which allow it to infiltrate rainwater.